Rich In Culture & Ever Evolving – Tarina Patel Is Living her Purpose as A Story Teller
Indian-South African actor and entrepreneur,
Tarina Patel
 is a celebrated actress, philanthropist, businesswoman, fashionista, and  author.  The Indian-South African bombshell studied Medicine in India for 2 years and graduated summa cum laude in Clinical Psychology.
Tarina has since  worked with some of the most recognized brands in South Africa and across the world.
As an actor and TV star, she has featured in SA's most popular shows including Top Billing, Real Housewives of SA, Idols, Generations: The Legacy, and many more. Her filmography boasts of English and Hindi favourites like Hotel Rwanda, Just Married and Dus kahaniyaan to mention but a few. Also with a trail of  endorsement deals spanning from Pepsi to Cadbury and Pantene , there is no room for rejection in her world . In this interview with Moriam Musa , Tarina speaks on her life which Is ever evolving, fluid, constantly growing.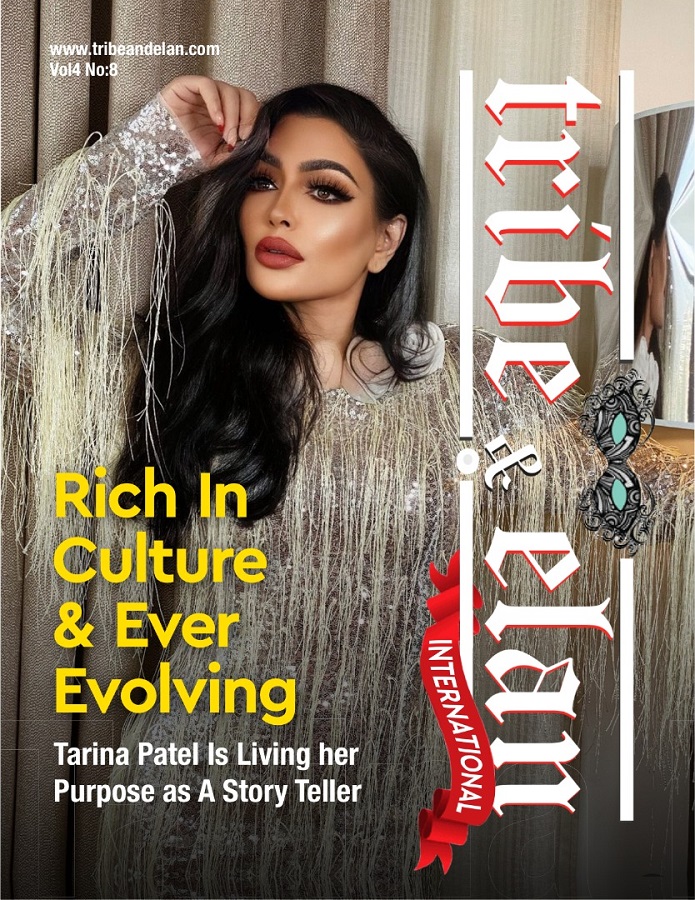 T & E : After completing your degree in psychology, why did you go back to learn Hindi to become an actress?
TARINA : Actually I had begun my life in the arts while still at medical school
I was spotted, repeatedly; threw caution to the wind and started modelling
Before going back home to do my honours in psychology, I was well on my way to hitting a 100 tv commercials, shot all around the world
Being inundated with offers to join the film industry, Hindi is kind of mandatory since the films are in that language! I had to have at least two degrees under my belt before my parents would allow me to enter the Creative world
So once that was done – a gift to my parents completing my honours at suma cum laude, it was time to realise my dream and live my purpose of being the story teller
  T & E : Do you practice at all ? If so , how do you manage being a model, an actress and film producer ?
 TARINA :   I practice my psychology daily
To manage myself, my environment; the dynamics within it all. To remain positive and healthy, to actualise my potential in the most productive way
Yes it's been an absolute boon in my life
I wish everyone would have some understanding of psychology- we could communicate in a healthy way, to our benefit
To better understand each other
I manage My time well, to give life to all my passions
Of course one can always do more, but I like to live in a Holistic manner – balancing all aspects of my life, being happy through it all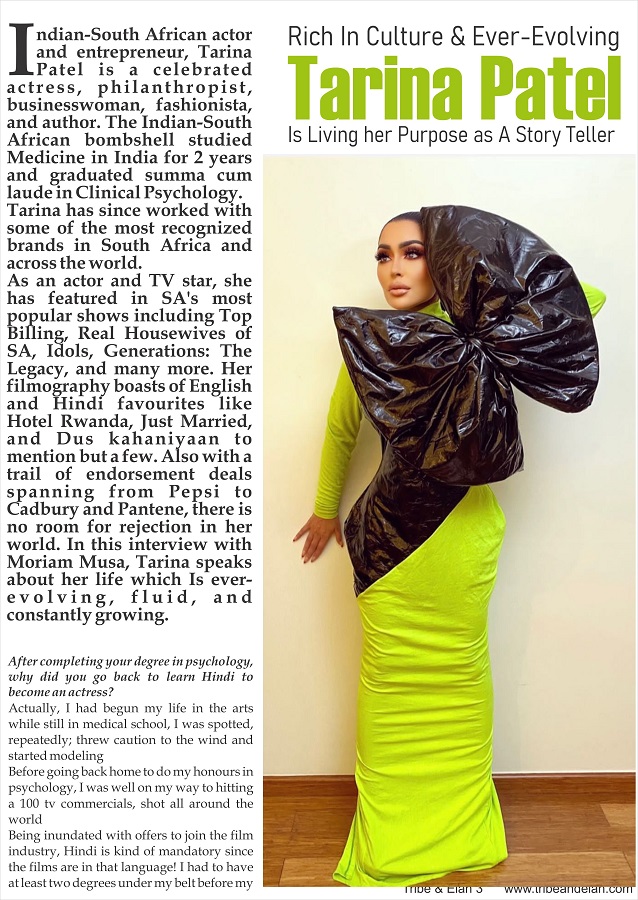 T & E : Who/what are your biggest influences?
  TARINA : Life is my greatest influence
I'm acutely aware, having all my senses well trained
There is so much to learn and enjoy all around us
How blessed we are to be alive at this stage of humanity …. Look around, watch absorb and take what's needed for your individual journey. There is no shortage of stimuli
Every industry, including the entertainment industry, is full of competition; what do you do to stand out amidst competition?
Aren't we all truly unique with something special to offer
The best we can do is that great version of self because everyone else is taken! I love that quote and never a more true notion
Be a talent but be nice too- nobody ever tires of kindness
  T & E : Describe your most challenging role to date.
TARINA : 
  It's yet to come…..
 T & E :   When you are not working what would you be caught doing?
Reading a good book. Oh wait, I watch, listen and read everything with the idea of turning it into a film! So that falls under work
I'm a total spa girl, enjoying the best of them around the world, eating chocolates- some shopping, meeting friends; attending fabulous parties globally
Life is so glamorous and I wouldn't have it any other way
T & E : How has being a reality star affected your brand ? Would you say it has been positive or negative?
  TARINA :     I've always been an actress. That remains the essence of what I do, what my true purpose is but I also remain relevant, and adaptable to constant change
Realty is quite the rage, so being a part of the biggest franchise made sense for me for that time .Also they would not take no for an answer! Life is short, try it all; and have no regrets
I don't take myself too seriously .It was fun while it lasted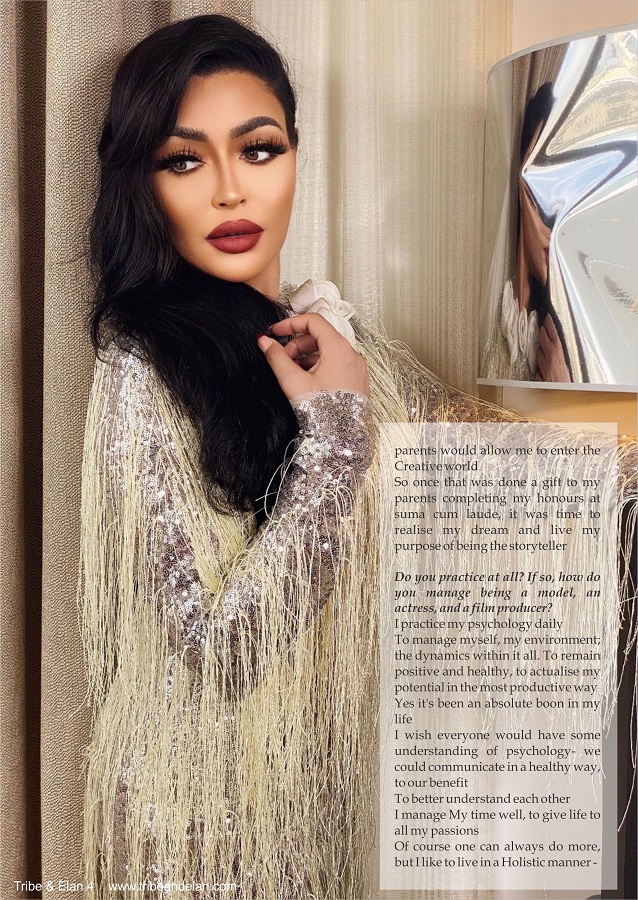 T & E :  What are your most priced possessions?
 TARINA :     Increasingly I believe that health is wealth
Im so blessed and grateful for my impeccable health
I believe In the psycho somatic approach so my positive mind frame is by far my greatest strength and weapon
One is Almost infallible, a great survival tool
  T & E : Tell us a bit about your personal style .
  TARINA :   I have so many avatars, and each of them have a strong persona
I like to give Life to each, so my style is rather vast and varied – an extension of each of them!
I don't have a uni approach to my style at all, always wearing completely different looks
I have fun with my style
Am ridiculously confident, owning them all
 T & E :  How would you describe your personality ?
 TARINA : That's a fault complex answer to a simple question, or perhaps a really simple Answer ….. that in itself is indicative of how layered I am. I am ever evolving, fluid, constantly growing; Rich in culture, emotionally aware, am old soul and Wildy free while still being traditional. Phew! That is just the tip of the iceberg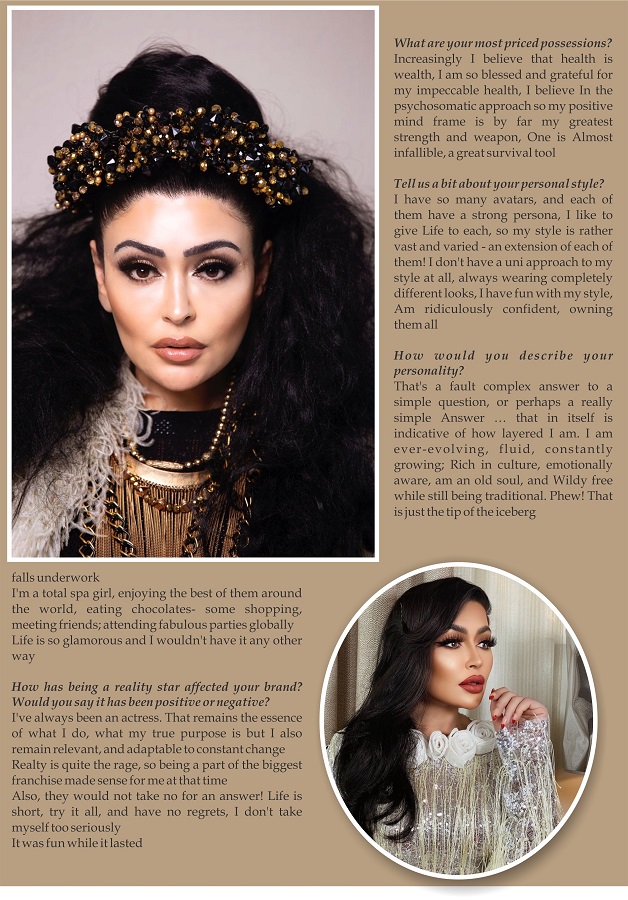 Tags :
Dus kahaniyaan
Generations: The Legacy
Hotel Rwanda
Idols
Just Married
Real Housewives of SA
tarina patel
Top Billing