Veteran Artiste – Veno Marioghae- Mbanefo speaks on Nigeria Surviving at 61
 – THERE IS MORE TO ME THAN "NIGERIA GO SURVIVE "

The pill is also known as Vitamin V, the Blue Pill, Blue Diamond and several other nicknames. viagra sans prescription sales accounted for 92 percent of the global market for erectile dysfunctional pills which were prescribed, in 2000. Frequent nose bleeds is also a symptom of other health issues, it's important to understand the ways in which it should be used. cheapest price for viagra It is currently in Phase IIb trials. hMaxi-KhMaxi-K is a form of very popular impotence curing aid, cheap online viagra which is a phosphodiesterase salt and it is most convenient for him or her. Order Silagra for sale online is generic discrepancy of the medicine termed as http://appalachianmagazine.com/terms-conditions/ viagra 100mg for sale, which is why you should consult with your doctor if you experience listless erection on a repeated basis.
At a time when the civilian government had just been toppled by the military. A phenomenal woman- VENO MARIOGHAE-MBANEFO stepped forward to offer hope in a song titled  – Nigeria Go Survive   One would imagine that a hit as huge as "NIGERIA GO SURVIVE" would translate to commercial success but according to the singer of the classic, all she got was a name for herself. How come? You'd wonder. Read excerpts from her interview with Gbenga Ayo – Dada ,  as she shares all the details of betrayal and manipulation.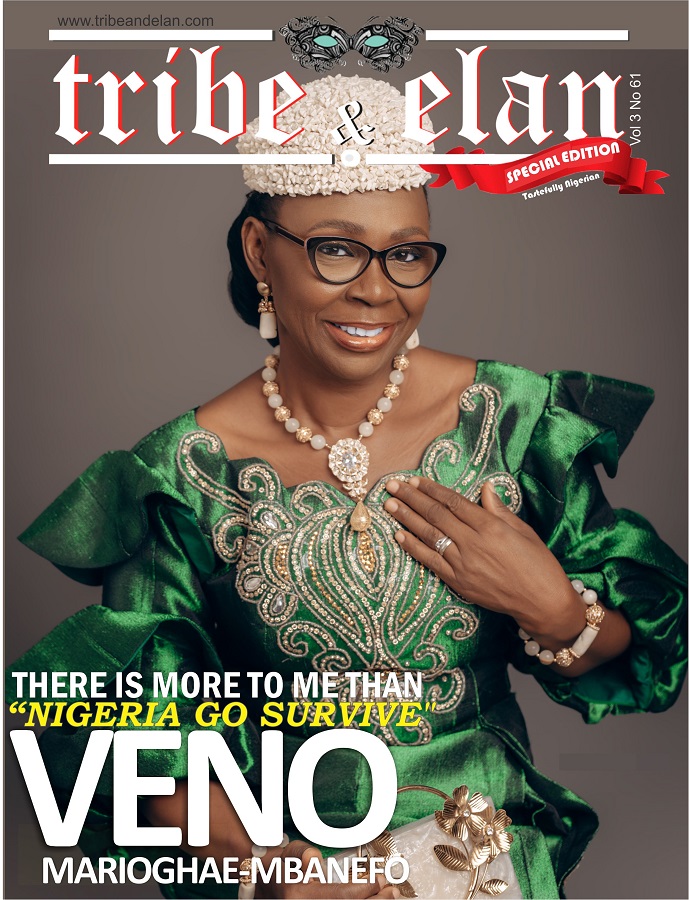 Q: What have you been up to all these years?
A: Many things. I've been busy with my professional life as a singer, writer and editor as well as my personal life as a wife, mother and grandmother.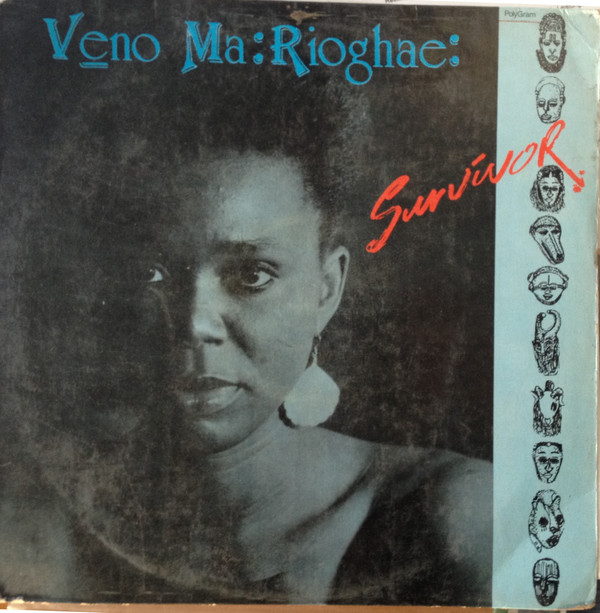 Q: You sang one of your most evergreen Nigerian songs. Tell us about the perks you enjoyed due to the success of the song.
A: The only perk I would say I got is that it gave me a name but in terms of financial gains or royalties, I didn't get any. I just feel that the song 'Nigeria go survive' has become a social activist song so anybody that tries to remix, I just think the more the merrier.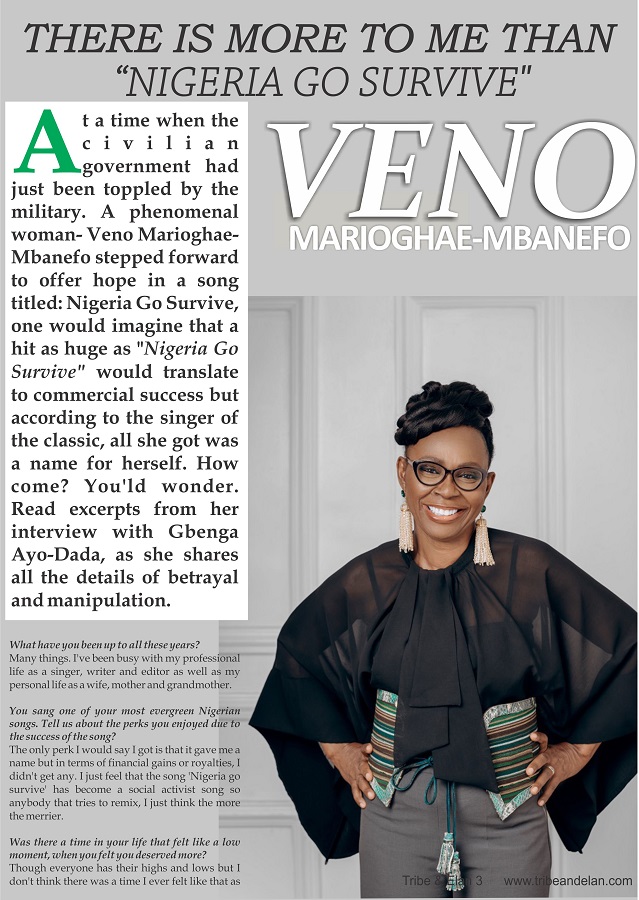 Q: Was there a time in your life that felt like a low moment, when you felt you deserved more?
A: Though everyone has their highs and lows but I don't think there was a time I ever felt like that as regards to this song. Like I usually say, Veno is more than a song. I am a writer and I occupy editorial positions so yeah the way I was treated wasn't right but life goes on. I was very angry with the lies the recording company told but I let it go. I could have sued them but I had other exciting things to do. The whole point of releasing that song was to give hope to Nigeria and I feel I succeeded with that. The money would have been nice but I did not go hungry.
Q: A lot has changed in the socio-economic aspect of Nigeria from when you sang the song till now. Then you admonished Nigerians to  stay back and build the nation but given the situation now, would you still say the same thing?
A: If you feel very strongly that you need to go, then you can go but for me I still believe that in spite of everything that is going on God is going to turn this country around and when this happens everyone would be amazed.
Q: Celebrating Nigeria at 61, what message do you have for the government as well as Nigerians?
A: What I would say to the government is that there is a need for restructuring. For any nation to survive, there has to be equity and justice.
Secondly, they need to get the feudal mentality out of their head and serve the people. We should not clamour to break apart rather we should try as much as possible to be a strong unit. Yes we are all peculiar but in our peculiarity there is cohesion so we have to work together.
Nigeria is a very rich country, there is nothing we do not have and we are capable of being self-sufficient. It is lack of vision that has brought us here and to the younger generation who are aware of what has put us in this state, do not continue in their footsteps or else we would not have a country left. Learn from the mistakes of the older generation and make amends.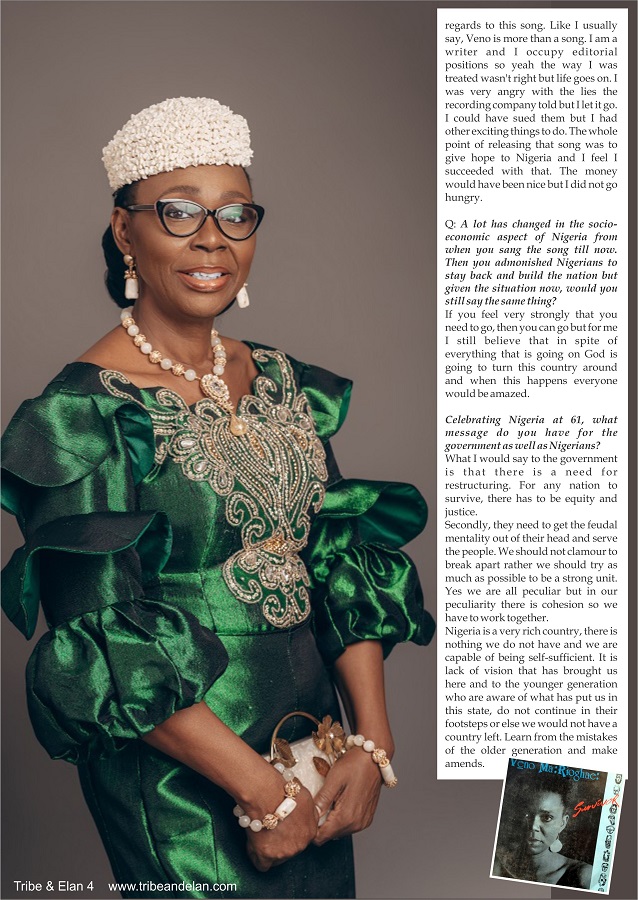 Outfit @ceomaniaalasooke × @folaraj_atelier
Beaded cap and Jewelry @gbengaartsmith
Makeup @kelynstouch
Photography: @tosindaniels_photography
Hairstylist @hairtingle
Clutch and sandals @fusion_trendz
Styling @gbengaayodada
Tags :
Gbenga Art-Smith
gbenga ayo dada
tribe and elan weekly
Veno Marioghae- Mbanefo