Adesuwa Onyenokwe's 60 Years of Life, Wisdom, and Media Mastery
…Her Gems of a Radiant Journey…
Adesuwa Onyenukwe at 60 is a living testament to the power of passion, dedication, and unwavering commitment in the realm of media in Nigeria . With six decades of life and experience, she stands as a true icon in the industry, leaving an indelible mark on both the media landscape and the hearts of countless individuals who have been touched by her work.
From her early days as a visionary young talent to her current status as a respected media guru, Adesuwa's journey has been one of resilience and innovation. Her ability to adapt to changing trends, technologies, and audience preferences has not only kept her relevant but has also allowed her to continually shape the media landscape.
Throughout her career, Adesuwa has demonstrated an unparalleled ability to connect with people. Her interviews have been insightful, her discussions thought-provoking, and her insights invaluable. She has provided a platform via her magazine – TW Magazine ,  for diverse voices, sparking important conversations and shedding light on critical issues. Her impact extends beyond the screen; she has been a mentor and an inspiration to countless emerging media professionals, fostering a legacy that will continue to influence generations to come.
As we celebrate her at 60, Adesuwa Onyenukwe continues to be a symbol of empowerment, wisdom, and grace. Her life's journey is a mosaic of achievements, challenges overcome, and a relentless pursuit of excellence. Her story is a reminder that age is but a number, and that passion knows no bounds. Adesuwa's legacy is firmly cemented in the annals of media history, and her influence will continue to shine brightly as she embarks on the next chapter of her remarkable life.
We can go on and on about her various conquests but  this edition , we have decided to share and learn from her journey of 6 decades and Lessons learnt in those years . Quite insightful and very thought provoking . We hope it empowers you  .
Age 0-10
Lesson Learnt – Embracing the Power of Hope
"HOPE"…. this has always made me aim for the best….
View this post on Instagram
Age 11- 20
Lessons Learnt ….Freedom & Hard work both have Consequences

View this post on Instagram
Age -21- 30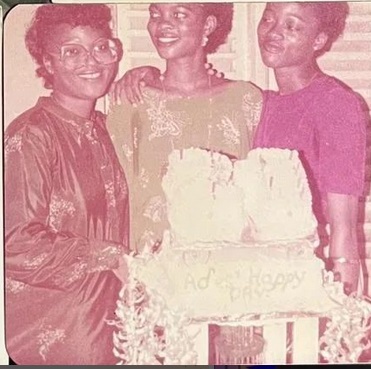 Lesson Learnt – Ownership is the first point of Call if you seek excellence in any sphere …"The show must go on"
View this post on Instagram
Age -31- 40
Lesson Learnt –Making Impact with least 'damage' to those nearest and dear …
View this post on Instagram
Age -41- 50
Lesson Learnt -Perseverance And The Power of NOW
View this post on Instagram
Age -51- 60
Lesson Learnt – Intentionality …all choices are now geared towards purpose ….No kiti kiti ,kata kata …
View this post on Instagram
Tags :
Adesuwa Onyenokwe's 60 Years of Life
Adesuwa Onyenukwe
and Media Mastery
moriam musa
TRIBE AND ELAN
Wisdom