Discover These Nigerian Streetwear Brands Shaking Up the Scene
In recent years, the world of streetwear has experienced an unprecedented surge, establishing itself as a highly profitable and influential sector within the fashion industry. With the global streetwear market reaching a staggering valuation of $185 billion in 2019, its exponential growth shows no signs of slowing down. And Nigeria, with its vibrant fashion landscape, is at the forefront of this transformative shift, propelled by a wave of innovative and homegrown streetwear brands.
These trailblazing Nigerian labels are rewriting the rules of streetwear, infusing it with themes of elegance, Y2K aesthetic revival, and a touch of glamorous armor. This emerging fashion movement beautifully reflects the unique style expressions of Nigeria's dynamic Gen-Z and millennial individuals, who effortlessly blend cultural heritage with contemporary influences.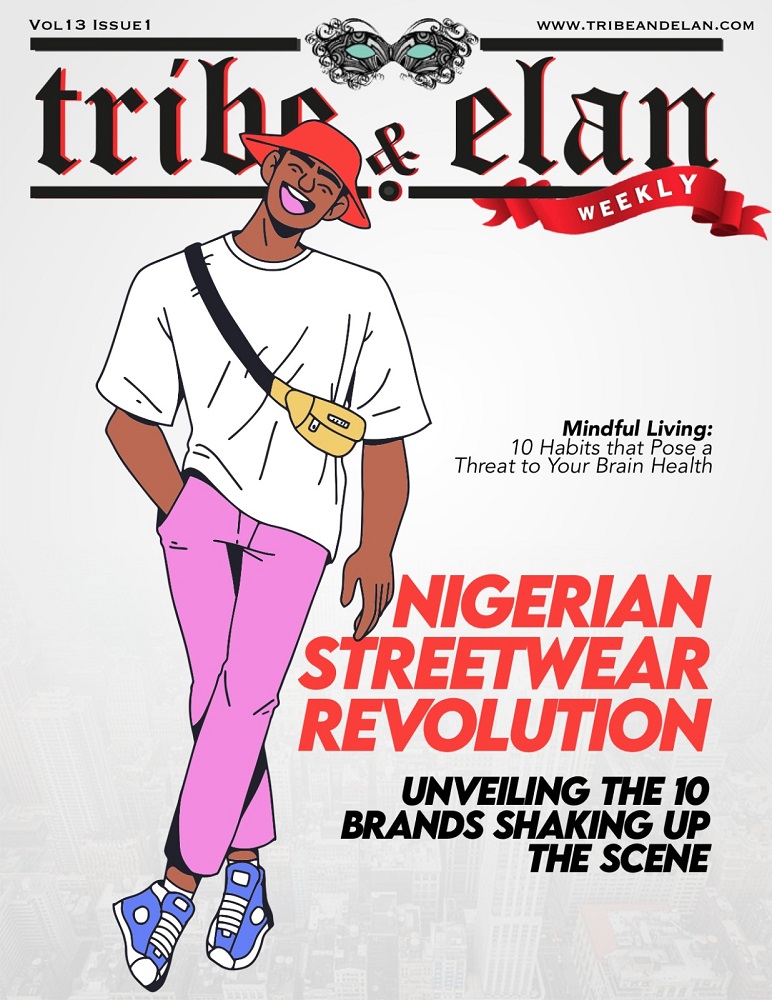 One of the driving forces behind the surge in streetwear fashion consumption in Nigeria is the vibrant alte subculture. Embracing unconventional fashion styles and subverting traditional gender norms, this community of young Nigerians has played a pivotal role in shaping the streetwear landscape. As the streetwear culture continues to thrive, it fosters extensive sartorial experimentation and gives rise to various genres and subcultures that push boundaries and challenge norms.
Amidst this vibrant fashion landscape, it is essential to acknowledge the pioneering designers who have spearheaded this movement, breaking barriers and fostering unity through their innovative creations. These visionary individuals have successfully bridged communities, transcended borders, and created a global impact with their unique interpretations of streetwear .
Without further ado, let us shine a spotlight on nine exceptional Nigerian streetwear brands that demand your attention. These trailblazers are shaping the future of fashion, capturing the essence of Nigeria's rich cultural heritage while seamlessly embracing global influences. From their bold designs to their unapologetic vision, these brands epitomize the fearless spirit and unmatched creativity of Nigerian streetwear .
                                         African fashion and lifestyle stories?
WAFFLESNCREAM (Waf.)
View this post on Instagram
Established in 2012 by Jomi Marcus-Bello, WafflesnCream, a Nigerian skate label, has emerged as a prominent player in West Africa's flourishing skate subculture. Fueled by a profound admiration for this scene, the brand seamlessly integrates skateboards, bolts, patterned wheels, lively checkered bucket hats, t-shirts, uncle shirts, and traditional Ankara print baggy trousers. Skillfully merging contemporary aesthetics with Nigerian heritage, WafflesnCream's designs create a distinctive and successful fusion that embodies the essence of modern fashion while paying homage to its cultural roots.
SEVERE NATURE
View this post on Instagram
Severe Nature, a Nigerian-Canadian brand founded in 2012 by Tobi Adeleye, Christopher Afolabi, and the late Michael Atobalele (Uzii), embodies a fearless expression of youthful freedom in Nigerian streetwear. Recognizing the lack of local options in the fashion industry, they established the brand in 2016, infusing contemporary essence while exploring redefined Y2K aesthetics with cropped tops and denim attire. Seamlessly bridging the gap between different age groups, Severe Nature fosters inclusivity and connection through its innovative designs, marking its presence as a bold and influential force in the world of fashion.
View this post on Instagram
Abuja based brand – Cool Cop streetwear brand captures urban vibes like no other. With an edgy edge, this label exudes style and confidence, embracing the spirit of the city's law enforcement with a contemporary twist. Their unique designs, combining streetwear aesthetics with cop-inspired elements, create a striking and fresh look that appeals to fashion-forward individuals seeking bold expression. This brand stands out with its arresting style and attitude, making it a go-to choice for those who want to rock the streets with a blend of coolness and authority.
CULT
View this post on Instagram
Established in 2018, Cult is a community-centric streetwear brand, drawing eyes with its signature Calabasas font logo. Renowned for premium tee shirts, trucker hats, and bucket hats, they elevate their influence by collaborating with notable figures like Davido and Kiddominant. Fueled by a commitment to excellence, Cult unites top graphic designers with premium materials to craft sought-after products. Embracing a blend of creativity and quality, this brand stands at the forefront of streetwear, captivating fashion enthusiasts and building a strong sense of belonging within its dedicated community.
NACK

View this post on Instagram
NACK (Nigerian Articulate Culture Kullection) transcends borders, welcoming not only Nigerians but also the global Afropolitan community, including Africans in the diaspora. Founded in 2006 by Tolulope Akinpeloye, the brand addresses the complex matter of identity, offering a platform for self-expression and celebrating diverse African heritage worldwide. Their collection showcases stylish shirts, sneakers, face masks, and accessories, embodying a fusion of culture and fashion. NACK's inclusive approach connects people through style, uniting them in a shared appreciation for art, culture, and a fashionable way of life.
Meji Meji
View this post on Instagram
Meji Meji, the brainchild of Tolu Oye, boasts a captivating origin story. Prior to its official launch, Tolu crafted one-of-a-kind face mask and bucket hat combinations for her college friends. Through embracing creativity and conquering fears, Meji Meji was born. This distinctive streetwear brand sets itself apart by delivering premium and practical designs, appealing to women who relish vibrant color palettes and bold cultural styles. With a focus on confident self-expression, Meji Meji offers eye-catching options that fuse exceptional craftsmanship with a unique aesthetic, empowering individuals to express themselves through fashion.
VIVENDII
View this post on Instagram
VIVENDII, a Nigerian fashion brand founded by Jimmy Ayeni, Ola Badiru, and Anthony Oye, emerged from a collective of bloggers in 2011, expressing their unique style on Tumblr. Evolving their passion into custom shirts and styling, they merged creativity with academic pursuits, leading to the birth of VIVENDII—a brand that embraces Nigerian heritage, bridging streetwear and high fashion with a distinctive lifestyle approach. Recognized by industry icons like Franca Sozzani and Roberto Cavalli, VIVENDII's name reflects their Latin-inspired motto: 'Modus vivendii'—our way of living.
Ashluxe
View this post on Instagram
Ashluxe, created by celebrity designer Yinka Ash, revolutionizes luxury streetwear through avant-garde ingenuity. Rapidly rising as a prominent force in Nigerian fashion and the diaspora, the brand harmonizes exceptional craftsmanship, youthful aesthetics, and enduring designs. From accessories to ready-to-wear ensembles and seasonal collections, Ashluxe boldly pushes boundaries, redefining the very essence of luxury streetwear, captivating fashion enthusiasts worldwide with its visionary approach.
David Blackmoore
View this post on Instagram
DB (David Blackmoore) is a Nigerian urban streetwear brand, co-founded in 2015 by Asaju Samuel and Asiafa Oghenefego. Recognized for setting unique trends, DB holds a significant role in shaping major streetwear fashion. The brand's distinctive features encompass back print t-shirts, vibrant colors, oversized tops, and signature prints. Notable pieces, such as the "mood like Fela" t-shirts and flower-detailed sleeve "harvest" shirts, pay homage to Nigeria's history while embracing streetwear fashion. DB offers a seamless pathway to mastering the essence and style of streetwear culture.
As the world takes notice of Nigeria's streetwear revolution, it is crucial to celebrate and support these visionary designers who are redefining fashion and leaving an indelible mark on the industry. Get ready to immerse yourself in the energy, authenticity, and boundary-pushing aesthetics of these Nigerian streetwear brands that are destined for greatness.
Tags :
Ashluxe
COOL COP
CULT
David blackmoore
Meji Meji
nack
nigeria
SEVERE NATURE
streetwear
Tolulope Akinpeloye
TRIBE AND ELAN
WAFFLES N CREAM