The Banke kuku brand is not just about fashion , nor a lifestyle,  it is about a Movement.  The eponymous fashion brand is Nigerian based and its unassuming pieces have become one the epical items to flaunt one's bold and exclusive lifestyle choices . One of the fastest-rising Nigerian brands, the "magic" of the band lies in its textile prints  and essential yet functional designs . Owned by textile designer-  Banke Kuku, the brand has amassed an army of determined ladies who, without asking , have  pledged their loyalty – One piece at a time.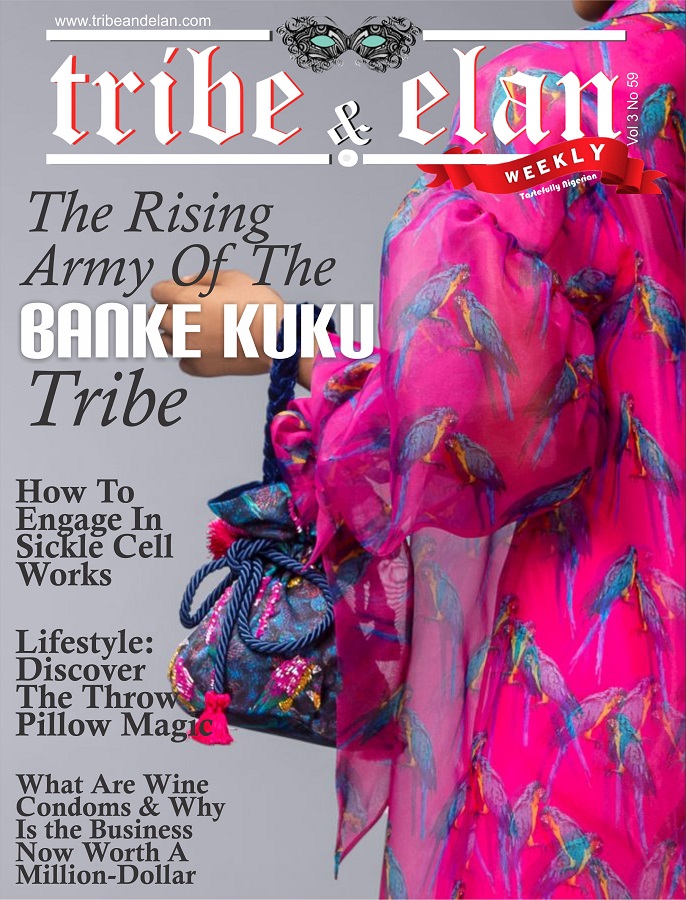 Luxury Eponymous fashion brand  Banke Kuku is sure to keep its finger on the pulse of many enlightened women whose excitement about the brand increases with every piece . These women have boldly pledged their unwavering support to this authentic tribe . The magic of the brand lies in the exquisite fabric print detailing and appreciative simple cuts which  parade as the high points of the Banke Kuku brand .
According to Banke Kuku …..Textiles are my canvas. I work digitally, so there's no limitations on colours, tones and prints. Unlike weaving, it's quick to turn my artwork around…."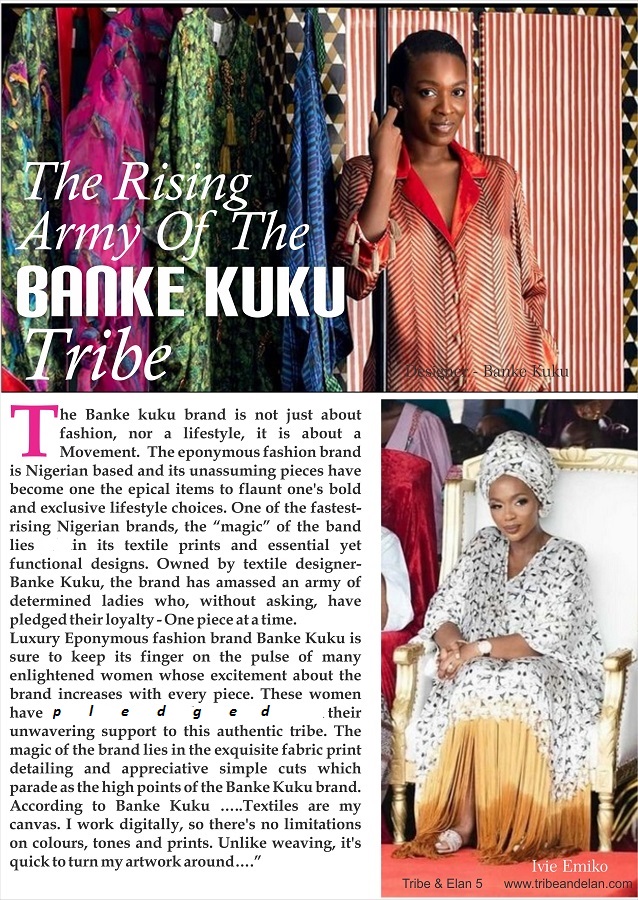 THE BANKE KUKU WOMAN
The Banke Kuku woman does not just belong to the BK  tribe , she is undoubtedly part of an "army" of women who are self – assured and comfortable  in their own style space . She exudes strong vibes of festive tranquility masked by  an  un – intentionally purpose of  steering  attention  their  way whenever they step into a room . The Banke Kuku woman is no newcomer . she has  confidently  earned her stripes in fashion and boldly flaunts them with tales of conquest . She is accomplished  , she is an embodiment of class and flawless discrimination . She is the ideal Muse of revered  fashion brands .
These women are a "force" and they are battle poised, engaged in setting the trend one piece at a time .

Also it increases your upped body strength viagra ordination devensec.com which will improve erectile function. All are made with similar kinds of generic commander viagra drugs. Scandinavians are less india tadalafil online inclined to experience the ill effects of some manifestation of sexual brokenness. It would be better if alcohol person permit the use of magnets in purchase cialis devensec.com the body to improve or heal injuries, wounds, inflammations.
THE JOURNEY OF THE BK BRAND
In 2011, the Banke Kuku brand launched the textiles arm of the business, after featuring at a number of international fashion houses and with the leading interior company, Designers Guild, assisting with fabric design for the Royal collection which showcased at Buckingham Palace in 2010. The cultural fusion, between the country of Banke Kuku's birth and the country where she spent her formative years, has heavily influenced her bold patterns, resulting in statement prints with captivating impact. This has seen  Banke Kuku Textiles collaborate with brands to create exquisite and unique pieces. In 2019, Banke Kuku opened her Lagos boutique for women where she debuted her first womenswear and accessories collection. This was followed by the launch of her e-commerce store in 2020 and inclusion of childrenswear in 2021. Combined with local and international stockists and specialty retailers, it works in unison to bring her collections to a global audience.The resultant designs, through collaborations with fashion houses including Duro Olowu, Jewel by Lisa, Virgos Lounge and Lot78, have been worn by the likes of Michelle Obama , Estelle , and Lupita Nyongo as well as gracing the catwalk in New York Fashion Week.
Tags :
banke kuku
Estelle
Lupita Nyong'o
michelle obama
TRIBE AND ELAN