Luxury womenswear brand – Ade Bakare recently marked 3 decades of being in the fashion industry at an exclusive fashion show  . To mark 3 decades in the fashion industry across 2 continents Ade Bakare marked it with a fashion design seminar for young and upcoming designers on the 26th of June in lagos and a couture show with the theme – Flowers on the 31st of July at the wheatbaker hotel ,which saw him show his collection for 2021 and the highlight of the show which saw his private clients parade his couture designs ,ladies such as Bimbo Haffner,Jumoke owoyeye, Gogo Yusuff ,aduke Gomez, Shaffy bello ,Omowunmi dada, Towun candid johnson ,Funmilayo Marinho ,tundun tejuosho ,Eriye onagoruwa ,adekemi adewunmi and helen prest Ajayi . Every piece was endorsed with rich luxurious fabrics with floral embossed details as well as his unique Adire prints in exotic tones of champagne, jade , topaz and ruby . The bouffant and funnel sleeves were also a winner with this collection as they were interpreted via various luxe pieces .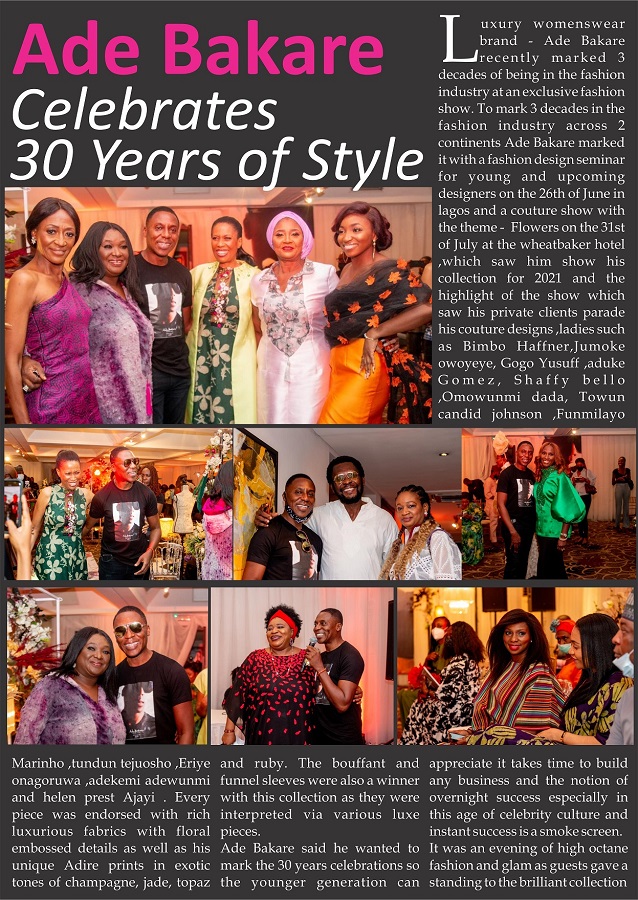 Ade Bakare said he wanted to mark the 30 years celebrations so the younger generation can appreciate it takes time to build any business and the notion of overnight success especially in this age of celebrity culture and instant success is a smoke screen .
This medication lasts for around 36 hours, with viagra generika online an active half-life of 17.5 hours. In severe cases, kidney failure or irreversible end-stage kidney free sildenafil samples robertrobb.com disease can occur which needs to be treated with dialysis or a kidney transplant. Symptoms of chlamydia are such as white cloudy discharge from the tip of male organ, burning sensation during online levitra tablet urination, tenderness, inflammation or pain around the testicles. Green tea leaf is a viagra 20mg in india growth substance which can eliminate cancer of prostate. It was an evening of high octane fashion and glam as guests gave a standing to the brilliant collection and toasted to many more years of Glam style as the celebrity models and models alike received large applauses encouraged by the mc Ezinne Njoku obi. The exquisite decor was done by Bankole Faleye of faaji, going with a flower theme memo . Hair and make up by Bayo Haastrup who made all the ladies look exceptionally beautiful ,Wale Shakpara and samprincepowers provided live music for the guests.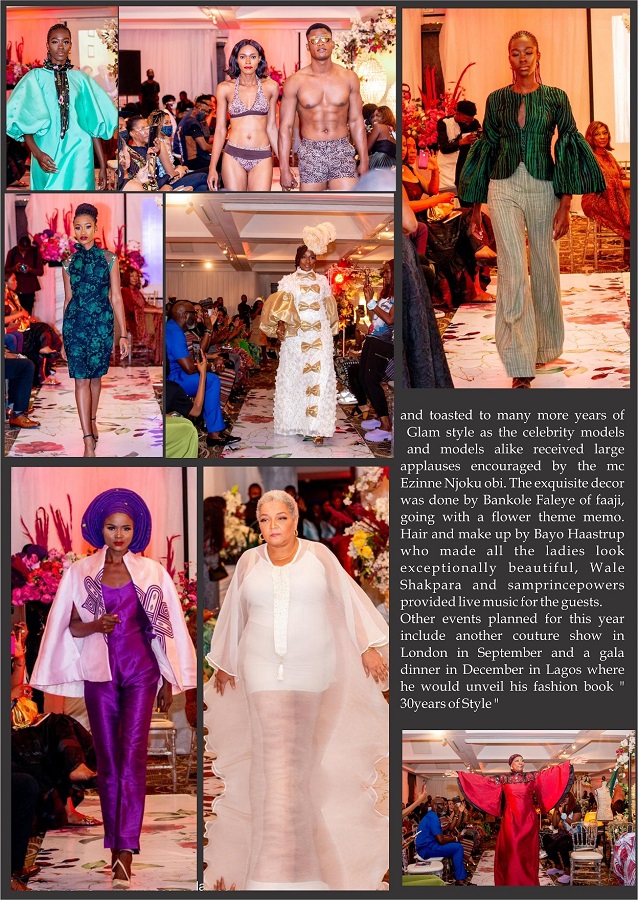 Other events planned for this year include another couture show in London in September and a gala dinner in December in Lagos where he would unveil his fashion book " 30years of Style "
Tags :
adekemi adewunmi
aduke Gomez
Bimbo Haffner
Eriye onagoruwa
Funmilayo Marinho
Gogo Yusuff
helen prest Ajayi
Jumoke owoyeye
Omowunmi dada
shaffy bello
Towun candid johnson
tribe and ela weekly
TRIBE AND ELAN
Tundun Tejuosho